Hi guys!
See bottom of post for a description of "Bump Steer" and how it affects the Early Evo.
As some of you may know, I have come up with a solution to the Early Evo's bump steer tendencies. I have decided it is time to make them available for everyone. I have made two kits: one that is used with an un-corrected roll center (standard ball joints) and one that is used with a corrected roll center (extended ball joints). The kits include:
- (2) New inner tie rods
- (2) 6061 T6511 Tie Rod Tubes
- (2) Fk 5/8"-18 4340, PTFE lined Rod Ends
- (2) Rod End Boots
- (2) Mitsubishi Tapered Adjustable Heim Adapters (Standard OR Raised Roll Center)
- All necessary hardware for install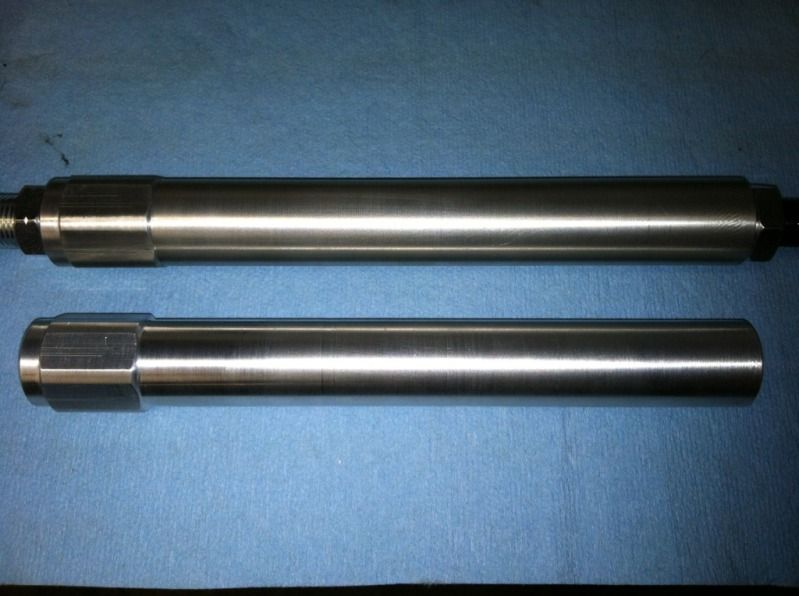 Both kits (adjusted roll center and non adjusted roll center):
This kit can be used on the street, but it was designed for the track. The rod ends are fully sealed and teflon lined so they should last for quite some time in any environment. The steering systems on the Evo I/II/III are nearly identical physically and geometry wise to the 1g DSM so I installed this kit on my daily driver '90 Eagle Talon 3.5 months ago. The kit has been heavily abused and has shown NO signs of wear or grittiness during my weekly checks. It is the middle of winter here in New England where they use some real nasty stuff on the roads so I am very happy with the rod ends' durability and performance; I can only assume due to the awesome Seals-It rod end boots used.
Bump steer has been eliminated from my lowered Talon and the steering has become extremely predictable. Before the install of this kit the car would jolt from a mid corner bump and a steering correction would be needed. This upsets the chassis and unbalances the car enough to be a nuisance. Limiting bump steer inspires confidence and provides the driver with a more informed feeling of what the tire is actually doing.
- Year, Make, Model of your Evo
- Stock ball joints or aftermarket? (If you don't know then 99% sure they're stock :) )
- Name
- Address
- Any special instructions for delivery, etc.
Although exaggerated, this short video demonstrates how bump steer (sometimes referred to as "self steer") affects tire direction when the suspension compresses and rebounds.
Bump Steer is when your wheels steer themselves, either toeing in or toeing out, without input from the steering wheel. This self steering affect is happening at the wheel before the steering linkage so it is generally not felt by the driver through the steering wheel. The undesirable steering is caused by bumps in the road or track interacting with improper length or angled suspension and steering linkages.
Bump steer generally gets worse when you start changing the stock suspension geometry, including lowering. When you lower a MacPherson strut vehicle like the Evo I/II/III (or any Evo for that matter), you end up changing both the lower control arm angle and the tie rod angle. The problem is that the tie rods and lower control arms are different lengths so they end up at different angles. To eliminate bump steer the lower control arm and the tie rod angle need to be parallel or very close to it.
For more info on bump steer see the links below:
Wiki Bump Steer Definition
Longacre Bump Steer Article
BUMP-STEERING: WHAT IS IT, SHOULD I CARE, AND WHAT CAN I DO ABOUT IT ANYWAY?